The ALICE Grants were distributed in Spring 2021 to provide direct financial assistance services to one or more of the following household types: seniors over 65; veterans; families/individuals with children aged 0-5; and ALICE households due to COVID-19 related unemployment.

Twenty-one partner agencies received a collective amount of $409,163.00 to serve the four focus ALICE populations identified in the application process. A portion of the funding to these agencies came from the $5 million MacKenzie Scott gift that Capital Area United Way received in December 2020, which has given us the ability to serve our community further.

Here are some of the stories and data from these partner agencies.
Top Box Foods - EBT Match and Healthy Grocery Credits Program
As part of our ALICE Grants, Top Box Foods was able to support and expand their EBT Match and Healthy Grocery Credits program. This program served both existing and new Makin' Groceries program participants that receive SNAP benefits as well as households that experience food insecurity but do not receive SNAP benefits. Participants using EBT cards received an unlimited 50% match on their orders, making it as easy as possible for people to stretch their SNAP dollars. During the grant period, Top Box Foods served 566 households in East Baton Rouge Parish in target low food access areas identified by the Mayor-President's HealthyBR initiative.
Jasmine's Story
One of the program's participants, Jasmine C., ordered healthy groceries for free home delivery with TBF eight times with her EBT card, which amounted to a savings of $280 SNAP dollars! When asked why she continues to shop with TBF, she said, "The best! My salmon was amazing and produce was everything I didn't know that I needed to shop for. This was especially awesome because I don't have transportation and live in a food desert! This is a blessing! Thanks Top Box (Foods) Louisiana!"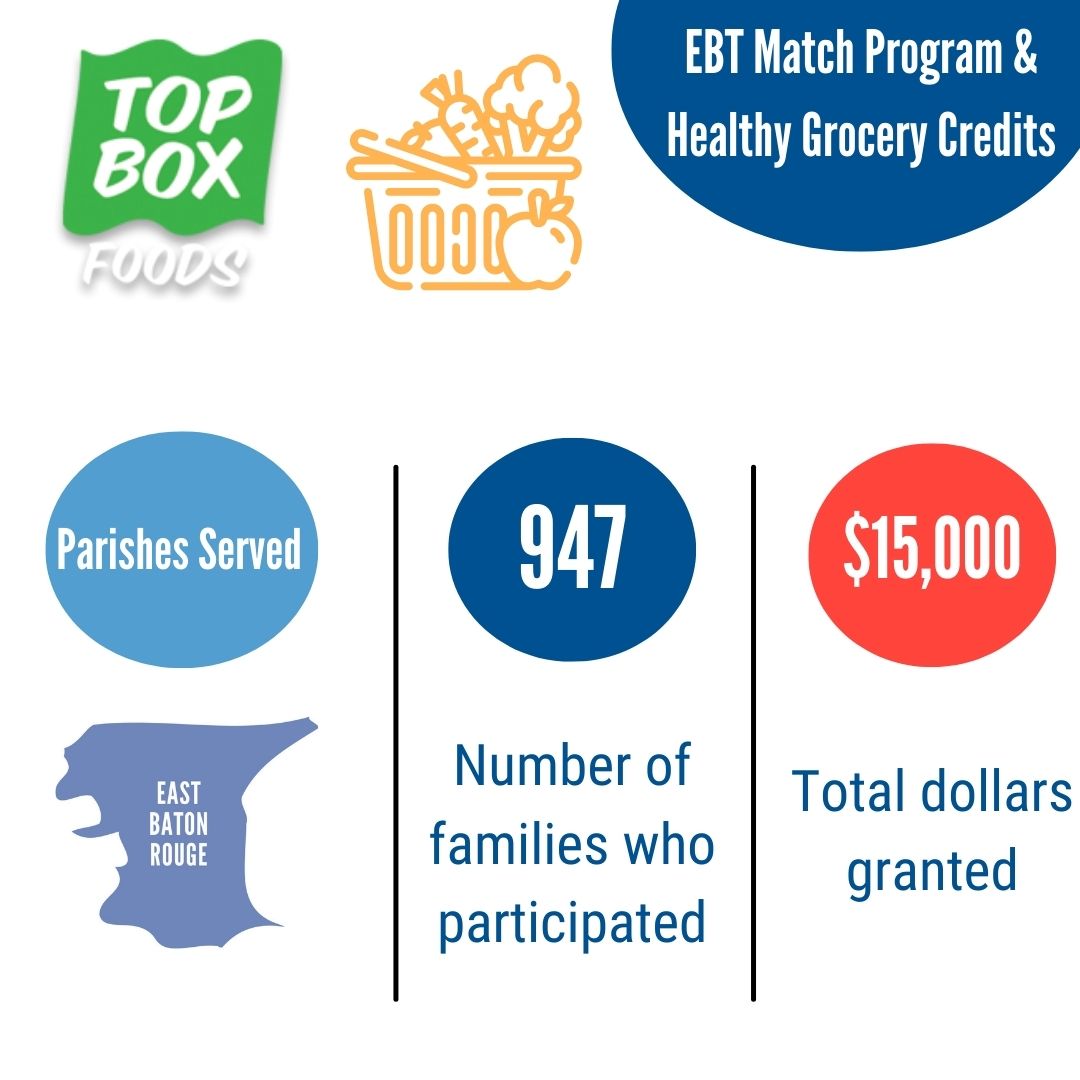 Catholic Charities of the Dioces of Baton Rouge - Parents and Children Together (PACT)
Catholic Charities of the Diocese of Baton Rouge (CCDBR) received one our ALICE Grants to provide for their Parents and Children Together (PACT) program. Since then, PACT has impacted 124 families (372 individuals) – and the most impacted group was families with children aged 0-5. Families in East Baton Rouge and Pointe Coupee benefitted from safe and affordable housing assistance while St. Helena residents benefitted from grocery and gas gift cards, which were most beneficial following Hurricane Ida.
Samantha's Story
One of the individuals impacted was Samantha, a 29-year-old single mother of three children. She is the mother of 2 boys (age 5 and 7) and a girl (age 5), and they live in Pointe Coupee Parish in public housing. She came to the PACT family literacy meeting this summer to receive free books for her children and asked about joining PACT. She was informed that she could officially enroll in PACT in a couple of months when the new PACT year began. Samantha stayed in touch with the Early Childhood Program Manager and let her know that she had been out of work for several months due to getting sick with COVID. During that time, Samantha fell behind on her rent and utilities payments; however, she could not be evicted due to the rent moratorium. Samantha's rent was based on her income, which was below $200. Because Samantha was out of work her rent was only $32 a month, but she still could not afford to pay it. Her utility bills were paid by other community resources that she was referred to through PACT and previous utilized agencies.
Fortunately, Samantha found a full-time job in October working in a new industry. Since she was gainfully employed again, Samantha's rent went back to the regular rate which is a third of her salary. Samantha paid what she could on the rent, but her balance was still over $700. Through the ALICE grant funds, CCDBR provided rent assistance to bring her balance to $0. As a single mom of 3 young children, these funds took a significant amount of stress off Samantha and her home life. As a participating PACT family, Samantha and her family will have continued access to case management and other support services that promote family resiliency.
Catholic Charities Impact: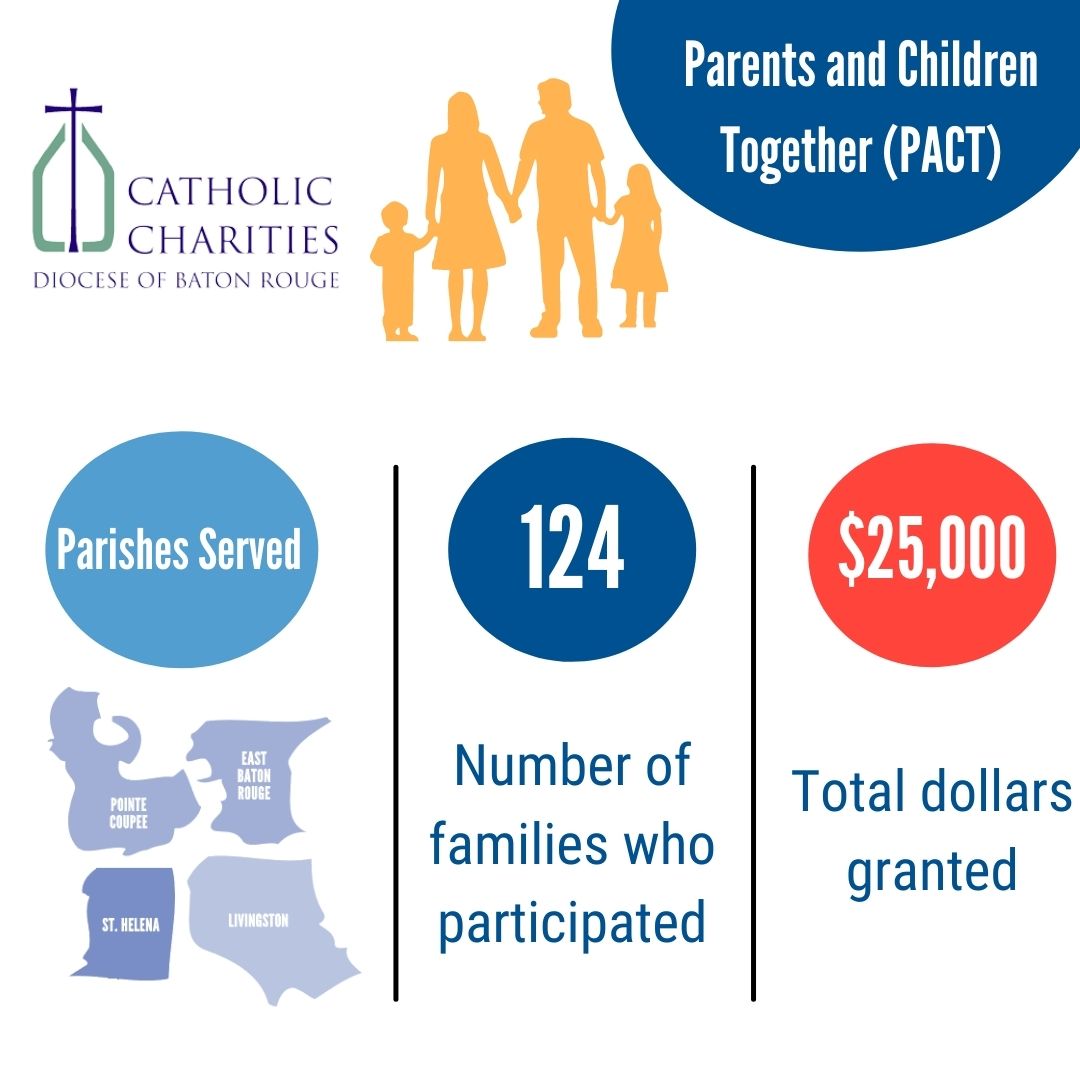 The Walls Project - FUTURES FUND Coding Bootcamp for Vets
The Walls Project delivered the funds to Veterans from the parishes covered by the grant. They received technology stipends of $1,000 per family after attending the Futures Fund Coding Boot Camp. This combined service allowed for much needed tech exposure and a way to pay for technology access (internet, computers, tablets, etc.).
Veteran Jay Boe highlights the impact of the CAUW ALICE dollars:
"My experience with Futures Fund is a unique one. I never knew so much work goes into making and developing a webpage. This stipend will help tremendously in continuing my learning."
Walls Project Impact: